| | |
| --- | --- |
| | Shimla was the most important British hill resort, prior to India's independence. It is named after its patron goddess, Shamla Devi, a manifestation of Kali. Simla, located at an altitude of 7,267 feet, is inhabited around a crescent - shaped ridge, which is blessed with perennially cool air and amazing views. It provides superb panoramic sights of the valleys, and the lofty peaks of the great Himalayan range, on both sides. The colourful local bazaars of Shimla are sprawled over the southern slopes of the ridge. |
This was the country's focus for the better part of every year and now, it is the state capital of Himachal Pradesh. Today, its well developed facilities, easy accessibility and numerous attractions make it one of India's most popular hill resorts. Placed in the tower ranges of the Himalaya mountains, it is surrounded by pine deodar, oak and rhododendron forests. Towards the north lie the snow covered high-ranges, while the valleys broad whispering streams and swaying fields. Within the town are a host of splendid colonial edifices,quaint cottages and charming walks. Shimla holds a variety of shopping,sport and entertainment.
Mid - April to Mid - July, Mid - September to Late October and Mid - December to Mid - January. The best time to visit is Mid - September to Late November.
Places to Visit :
The Ridge :
This large open space in the heart of town presents excellent views of the mountain ranges. Shimla's landmarks the neo Gothic structure of Christ Church and the Neo Tudor Library library building are here.
Chadwick Falls : Are only really worth visiting during or just after the monsoons (July to October). The falls are 7 km from Shimla and can be reached via Summer Hill.
Lekkar Bazaar : Popular for its wood crates and souvenirs, this is just off the Ridge.
Jakhoo Hill/Temple :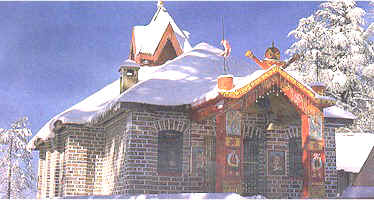 Dedicated to the monkey god, Lord Hanuman. At 2455 m, this is the town's highest peak and a vantage point for Shimla's famous views. The summit is crowned with a temple dedicated to Lord Hanuman. The hill is full of paths and narrow roads which are enjoyable walks.
Christ Church& St. Michael's Cathedral :
This dressed - stone church with fine stained glass has a cruciform design. It is located just off the Mall, below the District Courts. This is the second oldest church in northern India (the oldest is in Ambala), Christ Church was build between 1846 and 1857. The church is one of the Shimla's major landmarks and is renowned for its stained glass windows. You can have a look inside the church or attend English-language services every Sunday morning during the tourist season.
Indian Institute of Advanced Study :
At 1983 m, this magnificent English renaissance structure was the former Viceregal Lodge. Its lawns and woodland are added attractions. Entry by ticket (nominal charge). A portion of the interior is also open to the public, except on Sundays and holidays.
The Glen : At 1830 m, this is a thickly wooded ravine through which a stream flows. It is a popular picnic spot.
Annandale : Surrounded by a thick deodar forest, this large glade has an ancient temple on an edge.
SHOPPING : Like any other destination, Shimla has its own specialty to offer, representative of Himachal's unique culture, craft and tradition. You can buy handicrafts, wood and metalwork shawls, pullovers, local tweeds, caps, Tibetan carpets and pickle, jams and squashes.
The Himachal Emporium : People interested in genuine local handicrafts must visit this place located on the (western) Mall.
The Tibetan Refugee Handloom Shop : Located on the (Eastern) Mall, it showcases local development projects apart from selling carpets, clothes and other Tibetan crafts. Besides, there are a number of private shops and showrooms selling object art and crafts.
Solan : Famous for a Brewery Unit in 1835 and still running. It is said to be the gateway to the most beautiful parts of Himachal Pradesh.
Kalka : Known more because of it's all important toy train that runs to and from Shimla.