Trichur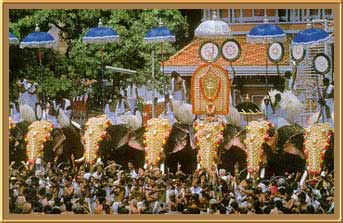 Thrissur, the name derived from 'Tiru-Shiva-Perur' (the town with the name of Lord Shiva) is the cultural capital of Kerala. The town is built around a hillock top. Its most prominent feature is the Vadakkumnathan Kshetram or temple which has Shiva as it presiding deity.
Anakkayam
Anakkayam is roughly 20 kms from Chalakudy on the Sholayar Peringalkuthu route, famous for its lake with cool and placid waters. The place got its name from a herd of elephants which used to visit the place quite often and the legend goes that the place got its name because some elephants had been drowned in this lake. The place is breathtakingly beautiful with its rushing waters, chiseled rocks and silent streams.
Art Museum
Within the zoo compound is the small Art Museum which has a good collection of wood carvings metal sculptures, Kathakali figures, and ancient jewellery. There is also a wonderful collection of traditional Kerala lamps.
Athirapally and Vazhachal Waterfalls
East of Chalakudy, near the entrance to the Sholayar forest ranges, are the beautiful waterfalls of Athirapally and Vazhachal, 5 km apart. These waterfalls are a place of scenic beauty , and is of 80 feet high.
Guruvayur (Pilgrim Centre)
Thrissur is a good base for a pilgrim trip to Guruvayur, 32km away. It is among India's most important pilgrimage centres and is also known as the Dwaraka of the South. The Sree Krishna Swamy Temple, which attracts thousands of pilgrims is said to date prior to the 16th centrury. Tradition has it that the temple was created by Guru - the preceptor of the Devas, and Vayu - the lord of the Winds.
The temple is dedicated to Krishna known here as Guruvayurappan or the Lord of Guruvayur, and the idol is said to have been worshipped by Lord Brahma himself at Dwaraka. It is at this temple that Melpathur Narayana Bhattathiri composed his well-known Sanskrit devotional poem 'Narayaneeyam'.
The temple is renowned for its healing powers. Several offerings are made to the deity here from the simple 'Archana' (offering of flowers) to the expensive and elaborate 'Udayastamana' pooja or Thulabharam' where a devotee is weighed against offering of bananas, sugar, jaggery or coconuts. Not surprisingly Guruvayur is the site for several weddings and 'Annaprasanam', the first feeding ceremony of child.
Peechi Dam
Peechi Dam, 23km fromThrissur is an irrigation project site which offers boating facilities at the reservoir. If you are lucky, you might even spot a wild tusker or two on the forested banks, which form part of the 125 sq. km Peechi Vazhani Wildlife Sanctuary.