Sun Tara Beach Resort
Kovalam -Trivandrum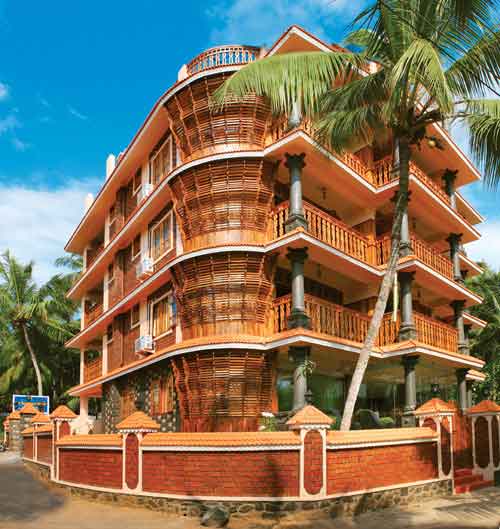 KOVALAM This enchanting strip of golden sands is laced with the rich greenery of coconut palms. A former fishing village, Kovalam is just 16 kms away from Trivandrum, Kerala's capital city. Kovalam is an evergreen and pleasant climatic beach resort. It is a dreamy place for tourists all over the world. Today Kovalam beach is known as the "Paradise of the South".
Welcome to The Sun Tara Beach Resort, where the sweet fragrances of flowers in the air and towering palm trees sway in the sea breeze. Our Resort offers panoramic view of the beach and sea from all it's 16 rooms, every one of which has it's own private balcony overlooking the sea. All rooms are air-conditioned and have balcony/sit-out, overlooking the beach just beyond. All rooms are furnished to international standards with shower and running hot and cold water. Other facilities include mini- fridge and cable TV. The employees of Sun Tara Beach Resort is committed to provide you with personalized, professional guest service with a smiling face with the satisfaction of the guest in mind at every moment.
Sun Tara Beach Resort is nestled into the hillock and located off an ancient fishing village at Vizhinjam and close to Kovalam Beach and just 20 kilometers from the Trivandrum International airport.
Long, beautiful shores of Chowara beach that gives its occasional visitors the tranquility we often dream of; the perennial silence interrupted by the chime from the Azhimala Shiva Temple.
Accommodation
All our rooms are air-conditioned with mini-refrigerator, wall mounted LC TV and the furnitures are fully furnished to international standards with teak wood. Each room has its own private balcony overlooking the sea.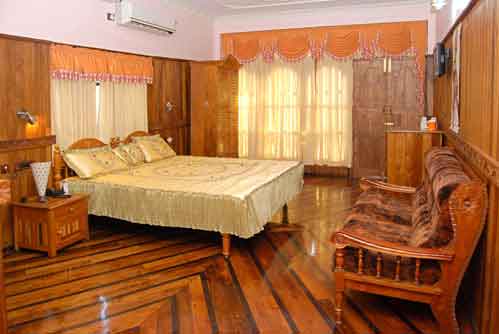 Types of Room Royal Suite, Honeymoon suite, Suite, Super Deluxe, Deluxe and Executive.
Roof Top Swimming Pool This is the main attraction in SUN TARA beach resort. Roof top swimming pool with kid's pool over looking the sea & beach, The pool has broad pool decks finished in natural dressed granite with poolside umbrellas and long reclining poolside cots. Swimming pools hygienically and flawlessly maintained with crystal-clear water reflecting the azure sky above and green coconut umbrellas around. You can see sunset from the roof top.
The A/C Multi-Cusine restaurant-sun rise This is an exclusive air conditioned multi-cusine speciality restaurant, which offers all kinds of culinary delights. almost all kinds of food, such as indian, chineese and continental food, kerala sea food delicacies and kerala specialities are offered here. traditional kerala food is served in plantain leaf on request.
A Traditional Ayurvedic health centre It offers a full range of restorative and therapeutic yoga and ayurveda treatments and massages, to help relax, heal, and invigorate your mind and body. ayurvedic treatments are under experienced doctor and technicions.
Other Amenities Wake up call service Doctor on call Lift service up to roof top Laundry Room service Meditation and Yoga centre Exclusive Ayurveda treatment centre Ayurvedic treatments Running hot & cold water in every room Mini refrigerator in every room Mini Conference Hall High Speed Internet Roof top swimming pool overlooking the sea & the sea Pick up and drop from airport, railway station Multi-cuisine a/c Restaurant Sea view open air roof-top Restaurant Photocopy Service - Extra Chargeable Safe Deposit Box.
Tariff in INR & Euro (CP)

ROOM TYPE

Season

Off season

Oct - April

May - Sept

INR

Euro*

INR

Euro*

ROYAL SUITE

Rs. 10000/-

€ 166.5

Rs. 8000/-

€ 133.3

SUITE

Rs. 8000/-

€ 133.3

Rs. 7000/-

€ 116.5

HONEYMOON SUITE

Rs. 7000/-

€ 116.5

Rs. 6000/-

€ 100

SUPER DELUXE

Rs. 5500/-

€ 98.3549

Rs. 4500/-

€ 80.4722

DELUXE

Rs. 4500/-

€ 80.4722

Rs. 4000/-

€ 71.5308

EXECUTIVE

Rs. 3500/-

€ 62.5895

Rs. 3000/-

€ 53.6481

Luxury tax @15% applicable on the above tariff.
Check in/Check out : 12 noon.
Round the clock room service.
All the rates are on CP basis.
Govt taxes are applicable are not included.
Tariff subject to change.
Reservations will be confirmed against 50% adcance of room tariff.
Extra person Rs. 700/-
15% Discount on Non A/C rooms.
December 25th Dinner @ 1500 per person & 31st Dec (New Year's Eve) Dinner @ 2000 per person."
Map charge is 400/ Person.
Peak season hike from 20th December to 10 January Rs1000/ room/ night.
Children below 12 years of age can stay free of charge in parents rooms.
For an extra person: +20% on the double occupancy tariff For single person: less 10% on the double occupancy tariff
Almost all of our property is furnished with wood, So smoking is prohibited in inside the hotel *The Euro rate will vary with respect to current rate of INR to Euro