Raja Park Beach Resort
VARKALA - Kerala
You have to see it to believe it - at this Varkala beach resort, you could fulfil your dreams - enjoyment coupled with a calm and quiet ambience. Experience the exotic as you climb down the lofty cliffs with mineral springs, giving panoramic views of the vast expanse of sea, to the beach and the crystal-clear ocean. Enjoy the serenity of sunrise and sunset. Established in 2001, the resort offers amenities aplentyRajapark Beach Resort, Varkala
the resort offers amenities aplenty. 7 deluxe A/C cottages and various other rooms include 10 Deluxe A/C pool view rooms and 10 Deluxe non A/C Rooms totally complement each other. Rest and rejuvenation facilities are just a call away. Delicious food, lilting music, Ayurveda and Yoga therapies and boat cruises are some of the amenities waiting for you here. They also include a multi-cuisine restaurant, beer and wine parlour, Ayurveda clinic, Yoga Shala, house-boat cruises, doctor-on-call, STD-ISD-FAX and Wifi internet connection. Car-parking There is no doubt that the five minute walk to the wonderful beach will stay in your mind for ever...
Accommodation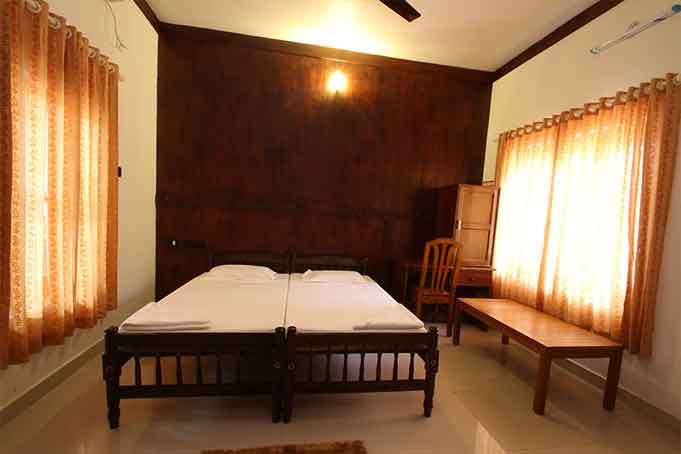 Deluxe Heritage Cottage A/C
Delightful deluxe a/c Heritage cottages are ideal for a getaway or for honeymoon couples. They have a master bedroom with attached bath/toilet and running hot water and a private sit-out. They are fully fitted with all modern amenities to make your stay comfortable.
Deluxe Cottage A/C
The charming Deluxe a/c cottages are ideal for couples . It has a master bed room along with attached bath/toilet with running hot water and cold water. These rooms are designed for 2 adults with all modern luxuries, with a cosy private sit out.
Deluxe Vintage Villa A/C
Independent wooden villas in exotic rustic setting. Elegant interiors, deluxe facilities, warm hospitality and tranquil verdant environs are set to give you a cherished holiday.
Deluxe Pool View Room A/C
Enjoy the comfort and space of our deluxe a/c pool view room with private sit-out or balcony with all the standard facilities to make your stay relaxed. There is a master bedroom along with attached bath/toilet and running hot water and cold water.
Deluxe Non A/C Room
Designed for two adults, these rooms come with all the standard facilities plus a private/common balcony or sit out. The master bedroom has attached bath/toilet with running hot water and cold water.
Restaurant
Multi-cuisine Restaurant Our Restaurant offers traditional delicacies, continental and indian cuisine ensuring a dining experience that is to relish and remember.Guests can choose from the finest selection of fresh Prawns,snapper,lobster and have it prepared to their choice.
Indian Food Most Indian cuisines are related by similiar usage of spices. Often, Indian food cooking is distinguished by the use of a larger variety of vegetables than many other well-known cuisines.
Fresh Sea Food The perfect dish for special occasions (or anytime you want to feel special), this dish is well-spiced, but mild. You can make it hotter by adding cayenne pepper and/or additional fresh or dried chilies.
Continental food A Light food, which you can enjoy any time of the day. For breakfast, lunch, dinner, or as an in-between snack. Check out these yummy continental recipes.
Ayurvedia Clinic Prana is our traditional medical centre with a focus on natural healing through Ayurveda.It is perhaps the best known clinic in Varkala offering excellent ayurvedic treatments with assured rejuvenation and cure.We offer the most authentic therapy and treatments supervised by a medicaly qualified doctor and experienced team of therapist..
Yoga Center
Surrounded by the lush coconut palms, the roof top yoga shala is an ideal place to practise or learn yoga in the land of it's origin.Yoga centre offers daily yoga classes and weekly course for long term guests.Even if you have never practised yoga before or never been to a yoga class before our yoga centre is a great place to start practising yoga.
24 Hrs Security Our 24 hours security guard and CCTV system provides complete safety during your stay.
Doctor on Call At any time of the day or Night, our services provides easy access to medical information.On request we will be able to arrange for an appointment with the doctor at the nearby hospitals.
Generator A powerful Generator in on standby, in case of a power failure. It is very important that you enjoy uninterrupted power supply and we continue operations efficiently.
STD, ISD, WiFi Connection Stay connected with the world,our business center provides WI-FI internet,STD/ ISD connections for making domestic and International telephone calls
Laundry Laundry is an essential function in health care and plays an important role -- not only contributing to comfort and aesthetics, but also assisting with infection control. Our Housekeeping Dept has a well organized efficient Laundry service that delivers in 24 hrs.