Kovalam Villa
Kovalam -Trivandrum
Kovalam Villa is in Kovalam which is in Kerala in the South of India. It is the ideal place to use as a base to explore the southern part of India.
The gardens at Villa have been carefully landscaped to maintain privacy for our guests and also to retain the origanal character of the surrounding area.We wanted to still attract the local birds and wildlife that are native to this area .This is why we have planted so many beautiful flowers and plants.
We have also placed two small ponds in the garden to ensure that kingfishers still visit.
In the garden we have lots of coconut and mango trees, banana plants, ginger plants, lemon and orange trees, apple and pomegranate trees. It is wonderful to pick your own fruit or watch the Coconut Men climbing the trees with bare feet to cut you a coconut.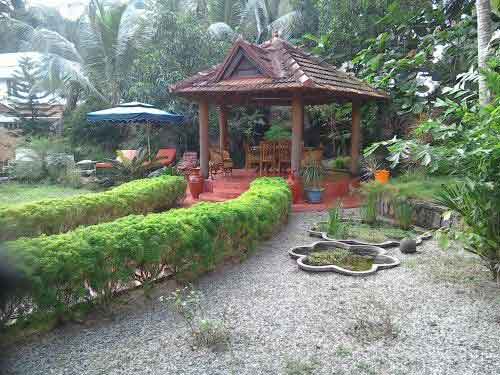 We have built a bandstand in the grounds which is just perfect for practising Yoga in early in the morning and its great as another veranda to relax with a drink at sunset.
The gardens are perfect for meditation, Reading a book (we have many) watching the birds or chipmonks or just soaking up the rays of the sun with a long cold drink. We also have a large veranda at the front of the house and a separate area with sun lounges on.
Accommodation
Kovalam Villa offers excellent accommodation on a bed and breakfast or room only basis. But if required the whole house can be rented on a self catering basis.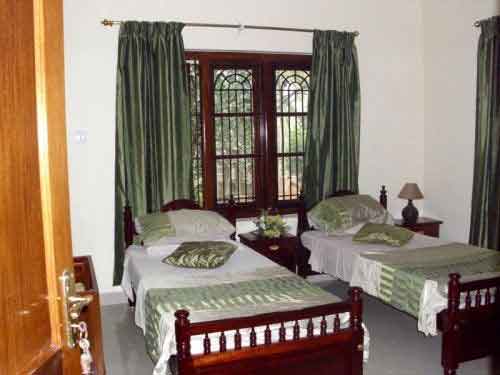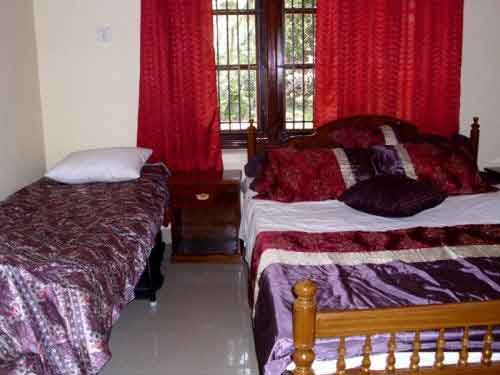 It comprises of a double room, en-suite, with a King-sized bed(extra single bed can be added to make this a family room). A twin-bedded room with a shared bathroom.
All rooms have ceiling fans and are furnished to a very high standard with bespoke furniture.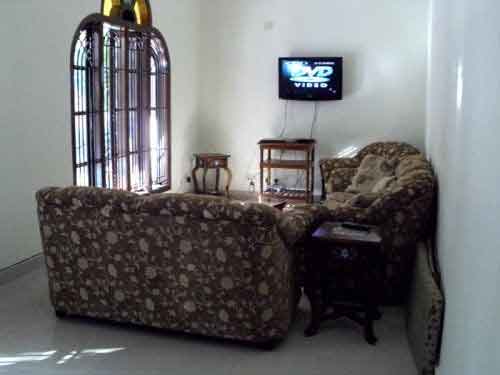 There is a large kitchen, utility room, dining room and a T.V Lounge which are all available to use. Laundry services and Internet is also available at a minimal charge. The house is cleaned daily with towels and bed linen changed every other day.
The Grounds are far enough away from the hustle and bustle of the surrounding beaches and restaurants to provide a calm haven of peace and tranquillity.
Villa was designed and built by an English couple who visited Kovalam and fell in love with the area and although Indian inspired it has the European touch.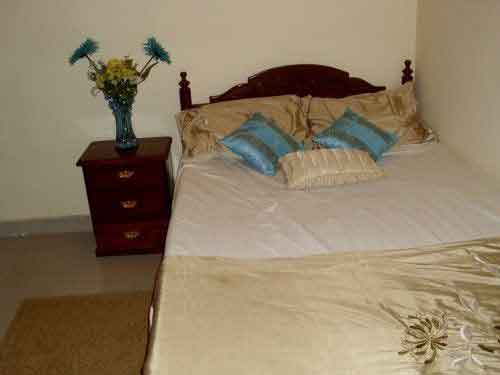 we have lots of local knowledge from which resturant serves which dishes best also depending on your tastes ,and which would be the best beach for you to visit some are very quiet while others can be more lively.
The Gate House is a two bed roomed bungalow set in the grounds of Kovalam Villa and offers total privacy if you require it or you can join the other guests in and around the main building.
The gate house consists of two en-suite rooms one with a king size bed and the other with twin beds both with ceiling fans. Both rooms have bespoke furniture and walk in wardrobes. This bungalow is finished to the same high standards as the main House. The Gate house has its own small lounge, and kitchen area complete with fridge, cooker, kettle, toaster and crockery etc. This is also cleaned on a daily basis. The Gate house has its own garden area and veranda. The barbeque area and gardens of the main house can also be used by the Gate House Guests. The T.V lounge and internet and laundry services are also available to the Gate House guests.