DELUXE ROOM A spacious room of 300 sq. ft. with wooden flooring that offers the comfort of contemporary design, and features a lounge area and a spacious bathroom with separate shower cubicles. Guests can choose twin or king-size beds. Both smoking and non-smoking rooms are available.
CLUB ROOM A spacious room of 320 sq. ft. with wooden flooring and elegant interiors, specifically for business travellers, with an exclusive check in counter at the reception. In addition to other amenities, Club Rooms also provide customised fruit baskets, business magazines, complimentary drinks at the bar, and facilities like office drop within a 5 km radius.
EVA ROOM A floor dedicated to the single lady traveller, where only lady employees handle services that include in-room dining, housekeeping, night patrol and chauffeuring. All rooms accommodate thoughtfully chosen toiletries, potpourri, magazines and weighing scale for the lady guest, to pamper her and take care of her every need.
SUITE An expansive room of 600 sq. ft. that offers an exclusive lounge, 40" LED TV, dining area and a spacious bathroom with bath tub. In addition to the other amenities, the suite also features a second 40" LED TV for the bed room, fruit basket, chocolate platter, docking station, magazines, express check in / check out service, complimentary drinks at the bar and transportation to and from the airport.
ACCESSIBLE ROOM The Accessible Room is thoughtfully and conceptually designed, keeping in mind the guest's comfort and every need. .
DINING
CAFÉ JADE An all day dining restaurant that overlooks the luscious green Gardens. Café Jade offers an extensive ala carte menu with a choice of international Indian and regional dishes along with elaborate breakfast, lunch and dinner buffets everyday. Located on the lobby level, it has a seating capacity of 116 persons. You can choose to either sit indoors or enjoy the fresh breeze with the al fresco seating option.
TIMINGS: 24 HOURS Breakfast : 06:30 hrs - 10:30 hrs Lunch : 12:30 hrs - 15:30 hrs Dinner : 19:00 hrs - 23:00 hrs
BRIM A contemporary lounge-style bar that offers a varied choice of wines, liquor and cocktails along with some mouth-watering snacks. It is located on the banquet floor with a seating capacity of 59 persons and offers a very stylish and chic ambience, making it the first of its kind in the city.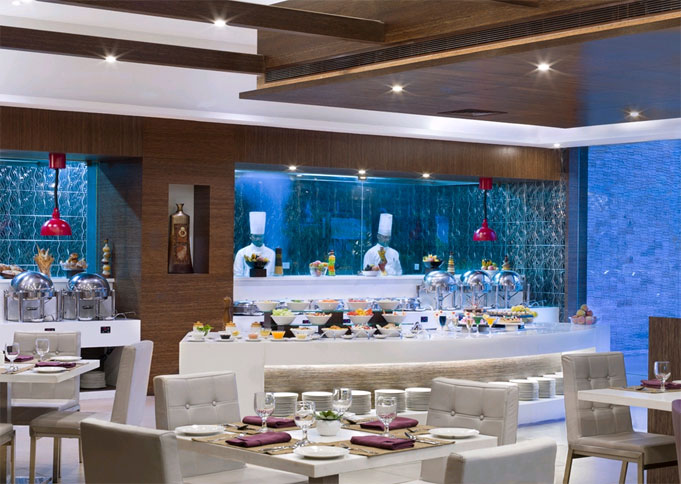 TIMINGS 11:00 hrs – 23:00 hrs
WATER'S EDGE The poolside restaurant on the rooftop is a speciality barbeque restaurant that offers an unparalleled dining experience with grills from all over the world and an interactive kitchen along with a live seafood station, live shawarma, teppanyaki table, live band and numerous other elements that make your experience unforgettable. It has a seating capacity of 40 persons.
TIMINGS 19:00 hrs – 23:00 hrs.
BANQUET
CONNECT Located on the banquet floor, this banquet hall with an area of over 1900 sq.ft, can accommodate up to 400 persons.
SYNERGY Located on the top floor, this banquet hall with an area of over 1500 sq.ft, can accommodate upto 250 persons.
GROVE Located next to the lobby, this beautiful landscaped lawn of more than 6000 Sq ft. area can host functions up to 700 persons
CREATE (10 PAX) Meeting Room II – "Create" Total Area = 187 sq.ft Boardroom = 8-10 pax.
INSPIRE (6PAX) Meeting Room III – "Inspire" Total Area = 169 sq.ft Boardroom = 6 pax
UNITE (20PAX) Meeting Room I – "Unite" Total Area = 408 sq.ft Boardroom = 18-20.
Activities
FITNESS CENTRE The body , they say is a temple. Worship yours at the ultra-modern fitness centre on the roof top. Let qualified fitness trainers guide you through goal oriented programmes. Body Analysis, Nutritional Advice and personal training, equipped with the very latest cardio and resistance training equipment, as well as a wide selection of free weights.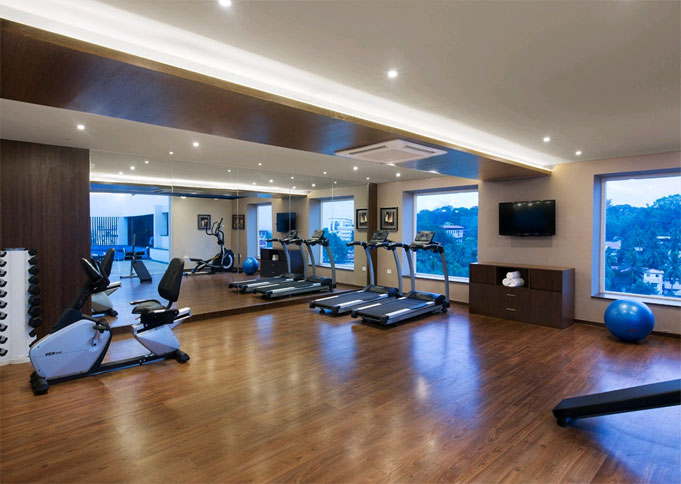 SWIMMING POOL If you step in top the pool with the weight of the world on your shoulders, Rest assured, you'll step out, feeling on top of the world. Our pool on the roof top is open to the sky and provides a magnificent view to raise your spirits. Let the cool crystal clear water works its natural magic on your physical and mental being. Our pool is carefully designed to suit both children and adults.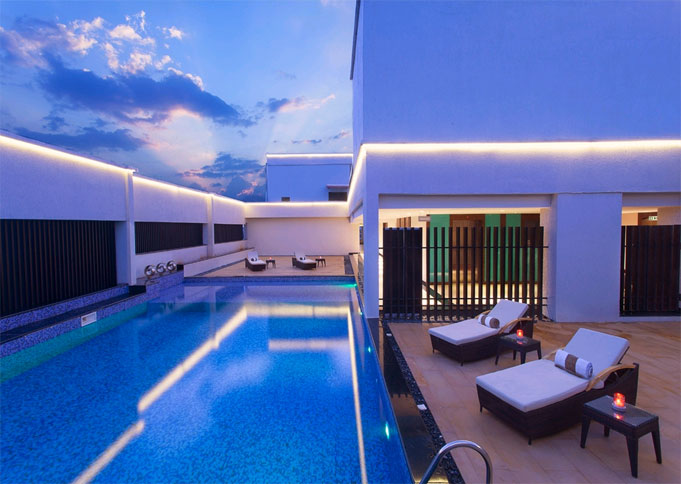 THINGS TO DO The capital city of Kerala, Trivandrum is also called the evergreen city of India. There are many tourist destinations in or near the city including KovalamBeach, Sree Padmanabha Swamy Temple, Varkala Cliffs, Napier Museum, Trivandrum Zoo, Neyyar Wildlife Sanctuary, East Fort, Veli Tourist Village, Padmanabhapuram Palace, and Neyyar Dam :