Coconut Creek Farm & Home Stay
Kumarakom, Code No- AT-KR.
Coconut Creek is a budget bed and breakfast Kerala homestay facility situated beside Kumarakom lake and bird sanctuary, in Kottayam district of Kerala, South India. Among all resorts and hotels in Kottayam we offer comparatively the best and cheapest homestay in Kumarakom, which suits backpackers and budget travelers. Kumarakom is an ideal spot for a vacation. Be it Kerala Ayurvedic massage, Kerala honeymoon trips, bird watching, Kerala backwater tours, medical tourism or culinary indulgences like Kumarakom karimeen, the local fish delicacy, with us, at Coconut Creek, Kumarakom you will discover a whole new world.
Coconut Creek is a Kerala heritage home more than 60 years old, located by the side of a canal, which leads to the Kumarakom Lake. The house set on four acres of lush evergreen was converted to a modern bed and breakfast homestay facility.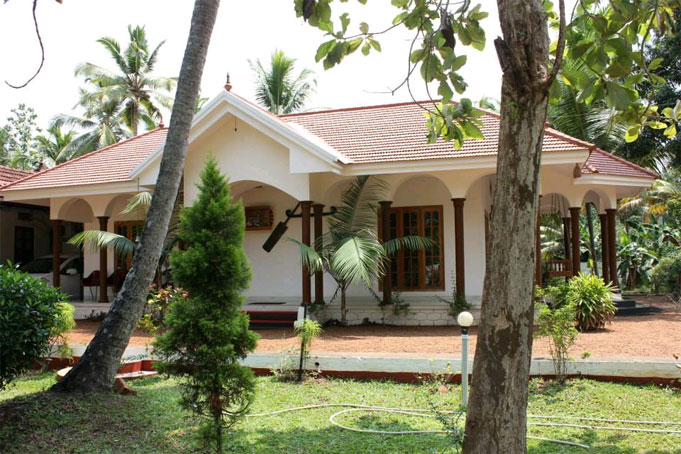 The breath taking landscape with lush and verdant coconut palm and farms provide an idyllic milieu for physical and spiritual rejuvenation. The only thing the setting lacks is the din and dust of metro cities. With three independent A/c bed rooms, exotic bathrooms, dining rooms, living rooms, complete with a verandah, a private sit out and an enchanting view at the Creek creates a wondrous and magical mood. An array of ethnic delicacies like Kerala sadya, Malabar fish curry, karimeen pollichathu, konchu curry, Kuttanad duck curry-Appam provide a unique dining experience.
Classification and certificate Coconut Creek is only one Diamond category Homestay in Kumarakom. Department of Tourism, Kerala Govt. classifies Homestays into diamond, gold and silver categories. Diamond category is the highest rated. We have received Diamond category certificate from the Govt: of Kerala Tourism Department.
Services and facilities at a glance Welcome Drink Homestay available on AP/EP plans Food on request Round the Clock Hot Water Cable TV Satellite radio Washing machine Living room Verandah and sit out Dining room Doctor on call Car parking facility Lawn and children's play area Maniyara (A traditional room decorated with flowers).