Bharat Hotel
Kochi (Cochin)- Kerala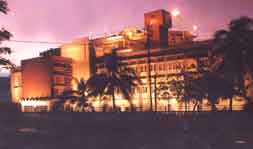 Bharat Hotel formerly known as Bharat Tourist Home or BTH can also be classified as an Udupi hotel, was established by sri. B. Govinda Rao in 1964. Though born and brought up in Cochin he had his connections in Padubidri near Udupi. Before starting the hotel he had been in catering business from 1940s. BTH was started with 30 rooms, a 40 seats restaurant and a conference hall. The hotel has stuck to its traditional catering business of South Indian Vegetarian cuisine but has changed with the modern times with modern facilities in its rooms and conference halls. The hotel has a set of clientele consisting of the middle level executives. planters and businessmen travelling with their families, and tourists both North Indians and foreigners, coming in groups. As Sri. Rao put it: "most of the customers who frequent the hotel are non-vegetarians". On Durbar Hall Road, 60 minutes from Cochin International Airport (Nedumbassery), 5 minutes from Ernakulam Junction Railway Station and Ferry Terminal and next door to Indian Airlines, city-office. Also close to City's best business, Shopping and Entertainment Centres, Banks, Post Office, Tourist Information Centre, overlooking the serine Vembanad lake and the Cochin Harbour, the Rajendra Maidan to the west and the Siva Temple to the north in a calm and quiet atmosphere.
ACCOMMODATION

A Vegetarian hotel with 91 rooms spread over 5 floors of elegantly furnished guest rooms, direct dial telephones, individual thermostat control for air-conditioning, running hot/cold water, television with variety of channels, Cable TV and direct Internet access aren't enough, think of a fully equipped kitchenette in your room, just in case you felt like being on your own!.
FACILITIES
24 hour room service, Currency exchange Postel service ,Cyber cafe Laundry service,Doctor-on-call, Travel desk, Stationary shop, Boating Facilities, Sight seeing, Car rental
RESTAURANT Dining (Cuisine-Vegetarian)
Subhiksha (Air Conditioned)
A Gourmet's spread of North Indian Cuisine, gets your taste buds tickling. Farmed in Stylish Decor and Soft Lighting with a whisper of Classical Music. Open: Lunch : 12.00 Noon - 03.00 P.M. Dinner : 07.00 P.M - 11.00 P.M.
Sulabh
Where the accent is on thetraditional side. Thali Meals,South Indian Delicacies and awide variety of Traditional Favourites. A cozy atmosphere. Open: 07.00 A.M - 10.00 P.M.
The 24th Hour Coffee Shop
It's the perfect place for Snacks, Fillers or to sip a frosted drink in the wee hours of dawn. Open:10.00 P.M.- 2.00 A.M. Location: Lobby Level.
Some of their famous and favourate dishes

Onion uthappam

Dosa

Vada

Rava Dosa
KEDARAM - Ayurveda means the Science (Knowledge) of Life
It is universally accepted that Nature offers the ultimate prescription for health and longevity. And no medical system on earth is more natural than Ayurveda. Ayurveda is the holistic and natural health-care system of India. It's the world's oldest system of healing and revitalising the body, pre dating even Chinese medicine. Ayurveda is more than a system of medicine; it's a way of life, encompassing science, religion and philosophy that enhances well-being, increases longevity and ultimately brings self-realisation. It tries to bring about a union of physical, emotional and spiritual health, known as 'swasthya'. This state enables an individual to enter a harmonious relationship with cosmic consciousness. Ayurveda takes a holistic approach to life, to ensure phusical, mental and spiritual wellbeing. It perceives health in its totality rather than its parts in isolation. It attempts to eliminate the fundamental causes that produce diseases, not shortcircuiting the main issue by treating their outward symptoms. Thus, Ayurvedic therapy ensures complete and long-lasting health, without leaving behind any harmful side effects. BTH has tied up with Keraleeya Ayurveda Samajam, Shornur to provide the services of an Ayurvedic medical expert at their hotels. These facilities are provided at places,blessed with natural splendour that has the capacity to heal and rejuvinate the physical body and energize the soul. .

Conference

Samsar-I- Fully air-conditioned, elegantly furnished and comfortable,Samsar- I provides an excellent backdrop for winners ontheir celebration night or for an important business meeting,the possibilities in fact are unlimited. Capacity : Reception/Conference-20 Auditorium-30 .

Samsar-II-An environment where aesthetics and efficiency go hand in hand. This air-conditioned hall caters to larger audience. Capacity : Reception/Conference-35 Auditorium-50 Samsar : Samsar can be combined by retracting dividers. Its fully air-conditioned, elegantly furnished & comfortable. We provide facilities to help you organise a conference or a management meeting. Telephone Projector (A/U and Video), In-house secretarial service, Public Address System etc. Joint capacity Samsar I & II Reception/Conference - 55 Auditorium - 80.

Aangan - This massive hall has it share of nature in abundance with a gorgeous view of the sea and the harbour. Whether it's a reception or an in-house display for a selected clientele, you can alter the decor to suit the occasion. With a few decorative touches it is possible to create a beautiful setting for a festive occasion. Capacity : Reception/Conference - 300 Auditorium - 400 .

Sowbhagh- A perfect (Non A/C) hall for conducting marriages receptions and seminars. Capacity : Reception/Conference - 200 Auditorium : 250

Pradarshan- An airconditioned hall on the ground floor which is an elegant venue for conducting exhibitions and small get together's. Capacity : Conference - 40

| | | |
| --- | --- | --- |
| Type | A/C | Non A/C |
| Single Occupancy | Rs | Rs |
| Double Occupancy | Rs | Rs |
| Suite | Rs | - |
| Extra Person / Bed | Rs | Rs |

15% State Government Tax on Room Charges is applicable on Air Conditioned Rooms and 7.5 tax on Non-Air Conditioned rooms. Sales Tax on Food and Beverage will be applicable as per Government Regulations. Any increase in Government levie will be extra. No charge for children below 12 years occupying the same room, without an extra bed. Check-in Check-out Time : 12 Noon Credit Cards accepted: American Express, Visa, Master, Diners and all recognized national credit cards.

Package - A feel of Cochin (2 nights 3 days) Rs /-

Inclusive of tax, Package includes- pick up and drop from railway station / Airport, complimentary Breakfast. (2 pax)

Day 1 Checkin at BTH A/c Suite Room at 12.00 noon, Visiting Kedaram the Ayurvedic Centre for undergoing Theppu (Ayurvedic Massage) done by Keraleeya Ayurveda Samajam.

Day 2 Starting for the Village Backwater cruise from 9:00 a.m to 1:30 p.m visiting Coir village and Coconut palms. A rare chance to see spice plants like pepper, Cloves, Nutmeg etc.. The boat used will be the local open boat called (Vanchi).

Day 3 Going for the local sight seeing of the city in the KTDC boat from 9:00 a.m to 1:00 p.m Visiting the important places like Dutch Palace, Jewish Synagogue, Chinese Fishing nets, St. Francis Church etc Check out at 1:30 p.m
Tele : +91-11-41612107, 26823836. Mobile : 9810002772, 9910002772.
Email :- reservations@ashextourism.com