The Vedic Village Spa Resort
Kolkata.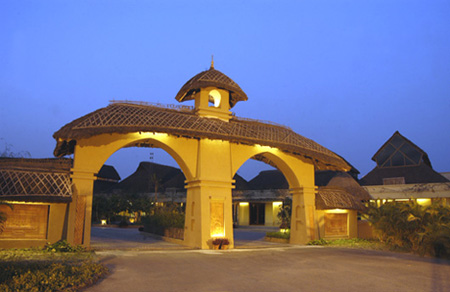 Welcome to Vedic Village Resort - a unique home away from home, with the flavour of the Bengal countryside. Set in the exclusive Rajarhat Megacity - a 20 minute drive from Kolkata airport and just 40 minutes away from the centre of the City.
An international Resort & Spa is the nucleus of the complex surrounded by farm lands which form part of the Bungalow Estate. A place where you can buy a farm house or just visit on holiday. To heal, renew and reincarnate.
Set over 125 acres of sprawling fertile organic farmlands, natural ponds, lakes and a wealth of flora, the Vedic Village Resort is a haven for rare birds and butterflies. Built with this tranquil environment is a 150 roomed International Resort and Spa with an array of facilities both indoor and outdoor for visiting guest. The Spa provides the best in Ayurveda & Naturopathy treatments whilst also offering an array of feel good therapies. The Resort has excellent infrastructure for residential corporate conferences and banquets.
You can also buy an exclusive bungalow in the Vedic Village Resort.
Own A Home In Vedic Village Resort
Whilst there are Resort Rooms for your stay, you could also own a Farmhouse or a Lake Front Home. Each property is surrounded by beautiful foliage. Walkways, jogging and cycling tracks have been blended into the natural surroundings. Overlooking the myriad water bodies, each unit is fashioned to offer all the modern comforts, while retaining an earthy and ethnic expression in its detailing.
The Vedic Village has farm bungalowss, Eco Homes and Lake Front Homes to offer. The farm Bungalows are surrounded by private organic farmlands maintained by the Village estate. Owners have the choice of spending weekends and vacations at the Village as well as the option of considering it as their primary home, in view of its proximity to the city.
A choice of 2/3/4/5 bedroom units on land measuring 7.5 cottahs upwards are available.8
Location in Vedic Village Resort
Located just a 20 minute drive for the Kolkata International Airport and 40 minutes away from the centre of the city, Vedic Village has the unique advantage of providing the visitor a first hand feel of a part of Bengal that has remained virtually unchanged through the ages. This land of sparkling lakes, coconut groves and green fields has inspired the renaissance poets, the music of th Bauls and the Santhal dancers. A sanctuary in the city. A sublime retreat away from the stress of modern living.
Vedic Village is situated on the periphery of the new Rajarhat Township 11 kms from the Kolkata airport and 20 kms from the city centre. The new Delhi Public School , Megacity is 10 minutes away and though we have very experienced doctors on site in case of emergencies, the Apolo Glenaeagles Hospital is also 30 minutes away.


Developed in a backdrop of a rural Bengal Village ambience, the Resort provides its guests a rich choice of over 125 exclusive Villas, Suites, Studios and Farm House Rooms with spectacular views and contemporary yet rural designs to transport the visitor to another world but ensure the comforts of the modern world.
Villas built on a natural lake with, a spacious lounge and luxurious bathroom to relax and unwind.
Village Suites constructed in authentic rural style but with all the star comforts to pamper the weary traveller.
Guest Suites (Single & Double Bedroomed with separate sitting room and bathrooms) attached to the Resort complex provide a new experience in hospitality.
Studio units with spacious bathrooms an excellent choice for the budget traveller are available.
Farm House or Farm House Guest Rooms well appointed for larger families are also available.
An array of outdoor facilities including Horse Riding, Archery, Cricket & Football, Croquet, Biking etc are available to add to the fun experience. A gym, library and a host of indoor games : Pool, Table Tennis, Carroms, Air Hockey and board games are available.
A state of the art Medical Spa is at hand to check you out should you need it or just pamper yourself to a 'feel good' experience in the Spa (See Sanjeeva Spa for details).
Sanjeeva Spa in Vedic Village Resort
'Sanjeeva' in Sanskrit means Rejuvenation and Sanjeeva Spa at Vedic Village is a state of the art Spa and Wellness Centre having facilities and ambience comparable to that of the best in the world today.
Conveniently located in the 125 acre Vedic Village , the Spa is flanked by organic farms, lakes and beautifully landscaped lush vegetation. This is one place where the modalities of Ayurveda, Naturopathy, Wellness and Yoga are combined to give you the best of rejuvenation and healing.

The current trend in Spa is revolutionizing the way we relax and pamper ourselves. Sanjeeva Spa has created a new dimension by offering relaxing Spa treatments based on holistic healing principles. Therapies on offer include a range of oriental treatments from Bali , western techniques and Kerala Ayurveda.
Supported by a dedicated group of doctors and therapists Sanjeeva offers programs for rejuvenation and therapeutics ranging from a single session therapy to a complete 5 week Shodhana Panchakarma - An intensive detoxification program that includes internal medications, external therapies, customized dietetics, lifestyle corrections, counseling, Yoga and Meditation.
Jeevema Sharadah Shatam .. This Vedic mantra reinforces our belief that life is meant to be lived for a hundred healthy years, and at Sanjeeva this is our endeavor.
Conferencing & Banqueting in Vedic Village Resort
Corporate Houses have recognised the potential of Vedic Village . Not only is it a place to network but a place to de-stress and relax. A very important need for the busy executive.
Vedic Village is used extensively by Corporate Houses for both Residential programmes and Day Conferences. There are four dedicated Conference Rooms appropriately called The OM Conference Halls with seating capacity ranging from 30 to 200 participates. There is a wide range of break-out spaces during conferences.

Participants enjoy a range of multi-cuisine fare from our specialised Chefs or may try our wellness food range on offer. Vedic Village provides a rejuvenation and a healthy environment for intensive training sessions.
Combine this with morning Yoga and a Fitness regime, health consultations, wellness advice, adventure sports and even farming exercises. A completely different experience for the corporate executive. Theme nights after a hard days work can be arranged or just relax in a serene environment and soak in the village ambience.
For those who want to arrange a unique wedding experience arrange your wedding or party banquet at Vedic Village and make it an even more special occasion for your guests.
Vedic Village Resort Tariff 2011 - 2012

Deluxe Resort Bungalow Room
Service Taxes of 5.17% will be extra
Above Rates are inclusive of breakfast and all taxes.
Extra bed Charges Rs.900/ +Tax
not valid during long weekends and festive seasons.
Packages 2011 - 2012 , For Very Special Rate Call 9810092772
1 Night 2 Days Packages



Deluxe Villa Rs.18250/- Per Couple
Earth Villa Rs.12250/- Per Couple
One Bed Room Suite Rs.10250/- Per Couple
Standard Suite Rs.8750/- Per Couple
Studio Rs.7550/- Per Couple
Aqua Home Room Rs.10250/- Per Couple
Deluxe Resort Bungalow Room Rs.8750/- Per Couple



2 Night 3 Days Packages



Deluxe Villa Rs.36500/- Per Couple
Earth Villa Rs.24500/- Per Couple
One Bed Room Suite Rs.20500/- Per Couple
Standard Suite Rs.17500/- Per Couple
Studio Rs.15100/- Per Couple
Aqua Home Room Rs.20500/- Per Couple
Deluxe Resort Bungalow Room Rs.17500/- Per Couple

Includes :- Welcome Drink for two at Agnee Or Sheetal, Assorted Bengali Sweets in the room, Complimentary Breakfast for a couple, One Major Meal (Lunch or Dinner) for a couple at Yagna -The Multi Cuisine Restaurant, 15% at discount on specific spa treatments over Rs. 1000/- , 10% discount in Chai – The Tea Lounge **, Free use of Gym, Library, Indoor games and Swimming Pool, Events & Entertainment on all the days during Puja including Tambola, Dandia, Live Band, DJ Night, Karaoke, Village Fair and Other Fun games through all the days
Package amount is included all Taxes

# Special features including Durga Puja at Vedic Village with Prasad and Bhog exclusively for the residents
Child Policy:-
1) Children below 5 years will be complimentary
2) Rs. 900/- + L.T. + S.T. will be charged for children above 5 years with Extra Bed and Breakfast.