Kufri Holiday Resort


Kufri Code No- AT-HP18

Kufri Holiday Resort is designed for your senses. Spectacular Views. Peace and Quiet. Serenity Tranquility. Action Adventure Sports. Nature Trails. Hiking. This quiet Resort, nestled in the natural beauty of the Himalayas and designed in the local Himachali vernacular architectural style is spread over acres of mountainside, with a backdrop of forests, snow-capped mountains and beautiful scenery. Come and enjoy our unique hospitality and let us take your worries away as you harmonize your mind, body and spirit with our exquisite surroundings, our excellent service and our acclaimed resort to return to over and over again.
Nestling in the mountains of Shimla is kufri at an altitude of 9000 ft. As fresh and beautiful as nature meant a hill station to be. Once Kufri was just a kufer or Pond. An idyllic spot where weary travelers refreshed themselves amidst the natural flora and fauna. Much later, the British, Charmed by the spot, developed Kufri. The finest ski-slopes were created, and soon Kufri became a favorite retreat. Amidst the natural beauty of Kufri, designed in the rustic, vernacular Style, the Resort is spread over acres of mountainside, with a back drop of forests offering a glorious view of snow-capped peaks. The resort's front lawn has a three-hundred mile long fence. A fence of high Himalayan peaks And this lawn has deep valleys,fast flowing streams, fresh-water springs, picture-perfect hamlets, fields terraced across hillsides and thick woods with a variety of bird life. Even if you want to , you really can't miss the spread of Himalayas from Badrinath and Kedarnath in Uttar Pradesh, to Pir Panjal of Kashmir. In between, there are the high Dhauladhar mountains of Himachal Pradesh- and a host of other peaks.....Kufri is easily approached by air, road and rail. It is an hour's flight from Delhi to Shimla. If travelling by road, there is a bypass before Ambala, on the GT Highway, that takes you to Shimla. A broad gauge railway line goes upto Kalka. From there one can take a wonderful ride through the mountains to Shimla in a rail-car or in Shivalik Express. Its is a 25 minutes drive from Shimla to Kufri. Weather in Kufri may require one to carry light woolens in summer - April to October and heavy woolens in winters- November to March.
By Road Kufri is linked with Shimla, Narkanda, and Rampur by highway NS22. It is just 15 km from Shimla, Chandigarh (132 km), Kullu (236 km), Manali (276 km), Delhi (358 km).
By Train Kufri is on the Kalka-Shimla Railway Line and the nearest railway station is Shimla which is 15 km from the Resort. Kalka can easily be reached by train from New Delhi or Chandigarh and the 92 km toy-train journey to Shimla is a steep and exciting one. From Shimla station you can easily get to Kufri by taxi, bus or by foot.
By Air Kufri does not have an airport, but the nearest airport is at Jubbarhatti which is at a distance of 23km from Shimla and 35 kms from Kufri. Taxis/buses are available from the airport to Shimla. Direct flights from Delhi are available on alternate days.
Trekking from Shimla But to fully savour the scenic views between Shimla and Kufri nothing could be better than trekking the 16 kms way.
Accommodation
Kufri Holiday Resort has 11 Luxury Cottages, 21 deluxe rooms, 8 super deluxe rooms, 2 luxury suites and 2 Royal suites which offer luxurious and comfortable accommodation in the midst of some of India's most beautiful mountain ranges and natural beauty.Every room will surprise you with the luxurious comfort of the tastefully furnished rooms housing all modern amenities and each providing a spectacular view of the virgin Himalayan peaks.
The Resort is divided into three blocks The Main Block The Kuber Block and The Cottages
The Main Block Rooms(Standard Double Rooms) : 21 rooms Standard rooms are 280.84 sqft in size Wall to wall carpet, some also have wooden flooring, double bed, luggage rack, 02 sofas and table, mirror
Kuber Block Super Deluxe Rooms: 8 rooms Deluxe Rooms are 320 square feet Flooring is Parquet, double bed, luggage rack, sofa cum bed and desk, mirror, attached common balcony, showers or bath tubs. Studio: Dining area, microwave
Luxury Suites: 2 rooms The Luxury Suites are 650 square feet & 750 square feet in area Wooden flooring Separate living + dining room and bedroom, showers or bath tubs
Royal Suites: 2 rooms The Royal Suites are 670 square feet in area Wooden flooring, separate living + dining room and bedroom, twin bath tub
Cottages For a truly exclusive experience you can choose from one of our 2 studio cottages, six one-bedroom cottages or the 4 two bedroom cottages. Set up as a cozy and private vacation home, our cottages provide privacy and convenience with separate living room, bedroom and a mini kitchenette that even has a microwave, a sink and a refrigerator. Located on the highest terraced level of the property, the cottages have some of the finest views of snow clad peaks of the Himalayas. Specially popular are the two bed room cottages with their personal fire place that are ideal for extended families or friends travelling together.
Two Bedroom Cottages: 4 rooms Two Bedroom Cottages are 1050 square feet in area Wooden flooring Independent Units, separate living room with fire place and two bedroom, Pantry with microwave
One Bedroom Cottages: 5 rooms One Bedroom Cottages are 804 square feet in area Wooden flooring Independent Units, separate living room with fire place and bedroom, Pantry with microwave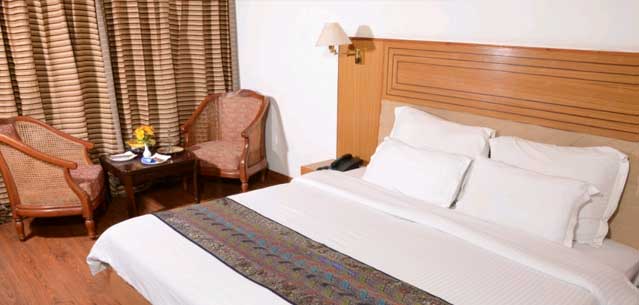 Studio Cottages: 2 rooms Studio Cottages are 320 square feet in area Flooring is Parquet, double bed, luggage rack, sofa cum bed and desk, mirror, attached common balcony, showers or bath tubs. Studio: Dining area, microwave.
The rooms are spacious and beautifully furnished , with large windows overlooking the snow-capped peaks.Two and three bedroom cottages are complete with a living room, a fire place, channel TV, music, hot and cold water, central heating in winter, and a telephone.There is also a 24-hour stand-by power supply
Escape from the city for a conference in idyllic Kufri. The Resort provides most modern facilities for a successful conference. A spacious conversation hall for 400 persons with a beautiful view of the valley. Secretarial services. EPABX and telex with sophisticated audio-visual equipment. There is a special Family Package for your family to have a wonderful time while you're in Conference. Every little service makes your conference not just successful, but the most enjoyable one ever.
Valid Till 11th Jul to 31st Mar, 2018.

02 Nights / 03 Days Package
Standard Room: Rs.13000/- per couple.
Deluxe Room: Rs.15000/- per couple.
Super Deluxe/Studio: Rs.17000/- per couple.
One Bed Cottage: Rs.19000/- per couple.
Two Bed Cottage: Rs.31000/- for 04 adults.
Luxury Suite: Rs.20500/- per couple.
Royal Suite: Rs.22500/- per couple.
Includes: Welcome Drink on Arrival. Fruit basket once during stay. Meal Plan - Breakfast, Dinner. 02 Mineral water bottle every day. Evening Tea/Coffee with light veg. snacks in lobby. Buy 01 and get one on alcohol in Bar. 10% Discount on Food and beverages (Non Alcoholic). Tea/Coffee maker in the room with cookies once during the stay. Accommodation for 02 Child below 05 years. Inclusive of all applicable taxes.