Hotel Mahamaya Palace
Narkanda, Himachal Pradesh.
Narkanda: Garlanded by snow covered Himalayan Ranges. Narkanda is located at the altitude of 2,775 mt. to extendable 3,100 mt. Hatu Peak. 64 Km. from Shimla is one of the oldest destination of Ski in India. Ski is done here from the times of Britishers. The north facing ski slop of Narkanda provides the best condition of snow for ski in India. The ski slope are situated with in the radius of 1 Km. from the national Highway-22. Fruit orchards on the surrounding hills produce some of Himachalís most luscious apple and cherries, making Narkanda one of Himachalís pleasantest settlement , no matter what time of the year.
The ancient mahamaya Temple (7 Km.) at kacheri, the Kali Mata Temple at Hatu peak(6 Km.), the beautiful lake of Tanu-Jubbar (8 Km.), Stokes Memorial ( Thanadhar), old church sights in the vicinity. Padam Palace at Rampur, Bhima Kali Temple at Sarahan, panoramic view of Kalpa, Sangle valley & Chanshal (Rohru) are the approchable destination for the visitors. And what is good about Narkanda is still un spoilt and uncovered. Most people come here durimg summer for adventure activities (Trekkng, rock Climbimg & Jungle walks etc.) and during winter for skiing too. Narkanda run the gamut form beginnerís to advanced, from Alpine to Cross-Country Skiing
Best time to visit Narkanda. Cold temperature during summer attracts lots of tourists, when you visit Narkanda depends upon, what you are here for. Peak skiing season is usually between January & february, when the slopes are well Ėcovered with snow. Narkandaís equally beautiful the rest of the year too. Autumn-between September & November is an especially lovely time of the year, when the woods around Narkanda are a riot of gold, orange & red.
Restaurant
Our Palki restaurant prepares food according to you. Our professional chefs also give the himachali touch to the food which is the best part of our food. We also prepare food according to your choice and taste. We Serve Indian, Chinese, Continental. .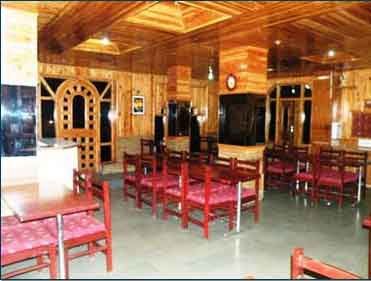 Tariff 2016
Rooms
E.P
C.P
M.A.P
Regular

880

1180

1780

Deluxe

2420

2720

3320

Semi Deluxe

3300

3600

4200

Family Suite

4000

4300

4900

Extra Bed

300/Bed

-----

-----

Inclusive of all taxes.
Check in 2:00 pm Check out 12:00 Noon.