Hotel Cedaar
Chail Code No- AT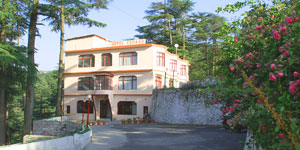 Hotel Ceddar is inspired by teh magic of natures love for heres where nature beckons you with the beauty of landscapes scen.
Chail itself name as Heaven far from the crowd surounded by nature green trees and icy mountains no wonder once upon a time in the summers. Cgail used to be the domain of kings and queens approx 7054 ft. above from the sea level, It has sense of romance & peace and Lioms hotel is here to serve you peaceful, comfort and royal life experience.
Facilities
Well Carpeted & Decorated Rooms, 24 Hrs. Hot & Cold Water Supply, Spacious Parking Area, Pure Vegetarian Food, Color TV/Cable Network, Intercom Connected, Balcony View, Room Service (7 AM to 10 PM)

Site Seeing Points
Sidh Temple, Maharaja Chail Palace, World Highest Cricket Ground, Maa Kali Ka Tibba, Sun rise & Sun set Point, Khadiun, Kufri, Shimla.

Places of interest Sidh Temple 3 kms from Chail, Khadum Bird Sanctuary 4 Kms Worlds highest cricket ground 4 Km 7500 feet above the sea level, Kali ke Tibba 9 kms. Sadhupl 16 kms Kufri 28 kms Shimla 36 kms.
Accommodatoin
Comfort Super Deluxe Rooms Every room has attached balcony and a beautiful scenic view. Enjoy each moment with the movement of the sun from sunrise to sunset. Love, live and feel the freshness.
Hotel Cedaar Pure Vagetarian Food Restaurant where every meal ends on high note. To us, service is a way of life and you are the VIP
Package 2015 - 2016
Valid till 31st Mar, 2016.
Deluxe Room
Rs.2400/-
Super Deluxe Room
Rs.2600/-
Includes: Accommodation and Taxes.

VERY SPECIAL OFFER. Valid till 31st Mar, 2016 *

Deluxe Room: Rs.2055/- per room per night.

Super Deluxe Room: Rs.2225/- per room per night.
Includes: Accommodation and Taxes.
*Conditions Apply.
Note: Offer not applicable for Christmas & New Year Periods and may also not be applicable for any other special day / long weekends.
Please Call us for the best travel deals Tele : +91-11-41612107, 26823836. Mobile : 9810002772, 9910002772.

Tele : +91-11-41612107, 26823836. Mobile: 9810002772, 9910002772.
Email :- reservation@ashextourism.com