Hotel Bushehar Regency
Rampur, Code No- AT-HP45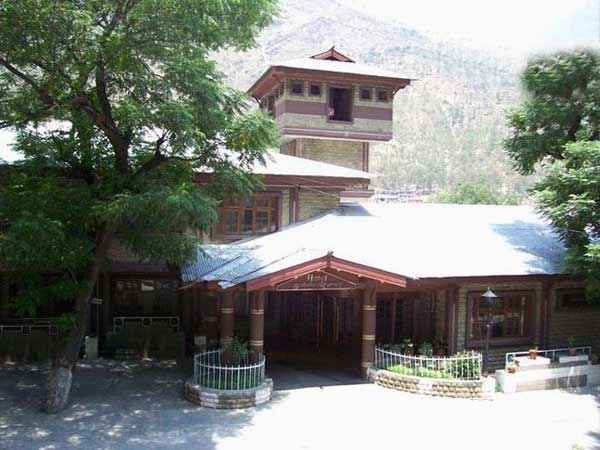 Once the capital of the princely State of Bushahar, Rampur presently one of the biggest commercial town of Himachal Pradesh. It is located on the left bank of river Sutlej. The town was once a major center on the old trade routes to Kinnaur, Tibet, Ladakh and Chiana. Even today the tradition is as Vibrant as ever. famous International Lavi Fairs held in November and Faag Mela in March every year.
HOTEL BUSHEHAR REGENCY: Named after the princely state of Bushehar. The Hotel is located on main NH-22 which is 2 km short of Rampur Bus Stand within the periphery of Cafe Sutlej. The building has been designed in a Pagoda style wherein the top floor of it floats all around the base. The architectural style reflects the Kinnaur style of building. The rooms of the hotel overlook the river Sutlej and circulation space of the building segregates the vehicular traffic and living space.134 kms from Shimla NH-22. Rampur is connected by regular Bus/Taxi services. The nearest Railhead (134 km) & Air (157 km) are at Shimla. Rampur can be approached from Rohru
Accommodation
All rooms are airy, specious and well furnished, and have attached baths with running hot and cold water.
Restaurant- Restaurant-cum Multipurpose Hall
Facilities
Parking within premises. CTV. Room Service. Sprawling Lawn.
Place to See
RAMPUR TOWN (924m): There are many places for sight-seeing. It is old Hindu and Buddhist Shrines include the Ragunath Temple, the Ayodhya Temple, the Narsingh Temple and Dumgir Budh Temple which has a large prayer wheel and hold important scriptures. In an interesting colonial and traditional styles, the Padam Palace is one of Rampur's major attractions. DUTT NAGAR (970m): 12 km ancient village on the left bank of Sutlej which derived its name from the ancient temple of god Daattatraya. NIRATH (950m): 18 km famous for ancient and unique "Sun Temple" of Nirath and also for Bhimakali Temple.
Tariff 2015 - 2016

Room

Prime Time

Leisure Time

Bushehar Suite A/C (DBR)

Rs.2900/-

Rs.2175/-

Double Bed Room Super Deluxe A/C

Rs.2500/-

Rs.1875/-

Double Bed Room Super Deluxe A/C

Rs.2500/-

Rs.1875/-

Double Bed Room Deluxe A/C

Rs.2200/-

Rs.1650/-

Double Bed Room Regular

Rs.1700/-

Rs.1275/-

Double Bed Room Economy

Rs.1300/-

Rs.975/-
Tax Extra 18.40%.

Prime Period : 01st Apr, 2015 to 30th Jun, 2015. 15th Sept, 2015 to 15th Nov, 2015.
Leisure Period : 01st Jul, 2015 to 14th Sept, 2015. 16th Nov, 2015 to 31st Mar, 2016.
C

lick Here for Booking Form
Tele : +91-11-41612107, 26823836. Mobile: 9810002772, 9910002772.
Email :-
reservations@ashextourism.com