Hotel Rajdoot
Shimla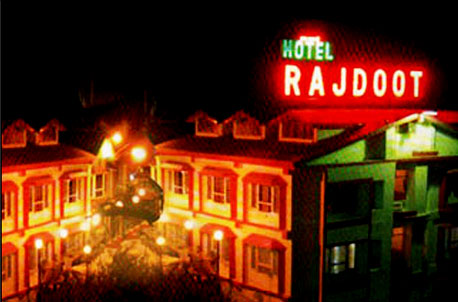 Hotel Rajdoot Shimla stands to offer impeccable services and best in class facilities to the guests. Located in the natural delights of Shimla, H.P., the hotel is a world-class rendezvous for delight-seeking guests. We maintain elegant decor, modern facilities and excellent conveniences to make holiday a wonderful experience for our guests. We have superbly been blending modern amenities with natural splendors to charm all kinds of guests. The guests are satiated to the core through luxuriant surroundings, discreet luxury and serenity. Hotel Rajdoot Shimla has been set up to serve the purposes of both business and leisure guests alike. We have been setting standards in the hospitality industry by offering higher level of comfort and luxury for the discerning business and leisure travelers. We pride for our state-of-the-art facilities to make every stay a memorable one. Guests are treated to the utmost delight through a range of services and amenities..
Rooms & Suites
Hotel Rajdoot Shimla is known for its fine accommodation facilities which include air conditioned tastefully decorated rooms with every possible facility. Besides accommodation, we offer various business facilities like internet, e-mail, fax, etc to the guests. Guests have a choice to enjoy evening under the open sky in our spacious roof top garden. Tasty and lip smacking cuisines welcome the guests for their ultimate delight. Keeping the comfort factor of our guests in mind, we offer airport transfers to and from the nearest airports in air-conditioned vehicles. With our travel desk, guests can easily get proper arrangement for local/outstation sightseeing tours in deluxe cars/buses.


Our rooms easily match the standard and budget of our guests. Guests are treated in their attractively decorated rooms as per their needs and modernity. A fabulous sight of the snow peaked mountain is ensured to add to the luxury of the guests. Our dining facilities include sumptuous foods to delight of the taste buds of the guests. We never compromise on comfort level of guests, thus always provide a good mix of services and amenities to leave them in total joy while staying at us..
Facilities:
Some of other facilities at us are: Direct Dialing Local/STD/ISD Room Service 24 hours 24 hours running hot and cold water Air-conditioned restaurant and bar Tours and travels Domestic air tickets Safe Deposit Locker Same day laundry Car parking Doctor on call Auto shoe shine.
Season Package:-
Valid From 15th Dec 2013 to 5th Jan 2014, 1st April to 10th July 2013



01Night / 02 Days


Deluxe Room Rs. 2500/- + 17.42% Tax = Rs.2935/-


Special Rate Rs.2526/- Per Couple



Super Dlx Room Rs. 3100/- +17.42% Tax = Rs.3640/-


Special Rate Rs 3132/- Per Couple



Extra Bed Rs. 300/- +17.42% Tax = Rs.352/-
Inclusions :- Accomodation, Breakfast, Dinner.

Package in Low Season:-
Valid From 5th March to 31st March 2013, 6th July to 30th Sep 2013
Deluxe Room Rs. 2500/- +17.42% Tax Rs.2935/-


Special Rate Rs.2377/- Per Couple



Super Dlx Room Rs. 3100/- +17.42% Tax Rs.3640/-


Special Rate Rs.2948/- Per Couple



Extra Bed Rs. 300/- +17.42% Tax Rs.352/-
Inclusions :Room, Breakfast ,Lunch , Dinner
Tele : +91-11-41612107, 26823836. Mobile: 9810002772, 9910002772.
Email :- reservation@ashextourism.com