Around the Cottage Around the cottage are many short distance explorations areas and scenic spots. Mountain Lake Tani Jubbar
The lake is at a distance of approximately 4 kilometres from the cottage, the lake is quite serene and has a lot of small forest trails to be explored its an ideal picnic spot to unwind and enjoy the day, near the lake there is a flat ground where every year in the month of June, a fair is held to welcome the village DevtaFamous for 'Nag Devta' temple.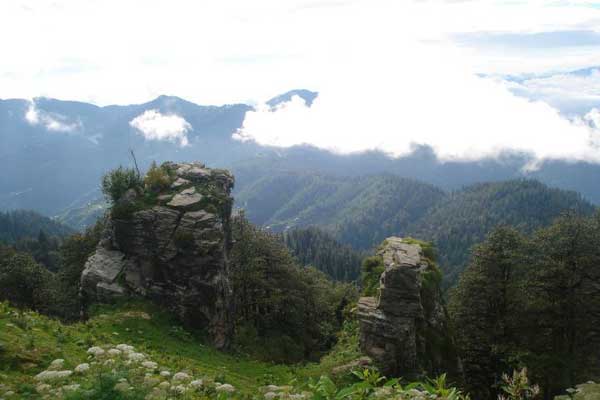 Hatu Peak
At 11,000 ft, this peak offers a panoramic view of the snowline. Hatu hillock provides beautiful and majestic views of the Himalayas and the surrounding pahari hamlets. It also has a small Kali temple. For almost six months in a year (winter and spring), Hatu is covered with a thick blanket of snow there is a motorable road right which goes all the way till the peak. The Trek approximately takes 2 hours and it takes you through a dense forest of Pine and Spruce trees. There is a gujjar hut enroute where one can break journey and enjoy the surroundings.
Sadhu Sundar Singhs Cave
Sadhu Sundar Singh was a Sikh indian christian missionary who is believed to have spent some years in kotgarh devoting his life to spiritual practice, he took shelter in the caves found in Kotgarh, the Trek to the cave is a soft one but yet quite adventurous.
Melan Village
Melan village is 15 mins downhill walk from the cottage, walking throught this village trail gives you a real impression of the Himachali local life where the old traditions and cultures are still part of their daily routine lives.There is a Temple in the middle of the village where one can stop to offer prayers.The himachali people are very friendly, curious and more than happy to answers questions and be photographed you can enjoy a cup of tea withthe locals as well. The Trail further leads down into the forest (Melan Dhak) where a seasonal stream flows and turns into a waterfall after a short walk.