At The Estate Villa: Expect an elegant, rambling mansion with an old world charm, green environs and personal service in an intimate atmosphere.
The Estate Bed and Breakfast is located in its annexe, across its lawn, both welcoming yet private.
The Estate, which is a short walk away from the Sultanpur Metro Station, has five rooms in the annexe with private balconies facing the lawn including a family suite. We also have a lounge, dining room and a sunny, terrace garden to soak it all in.
* The Estate is a registered gold category bed and breakfast establishment.
Accommodation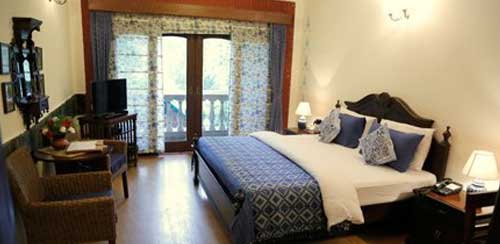 Each room is equipped with: – Attached bathroom with hot and cold water and top-of the line herbal toiletries – Air conditioning – Clean and comfortable beds with Five Star quality spring mattresses – Colour T.V. with over 100 National & International channels – Tea / Coffee making facility – Local and International phone facility – Wi-fi internet facility
Facilities and Services include: – A sunny terrace Garden – A comfortable lounge with informative books – Round the clock security – Computer room with internet connection, fax and printer. Please use facility as per rate card – Lounge has the facility of providing bottled water, aerated beverages, proprietary snacks etc. – DVD player, hair dryer, iron available free on request – Laundry Service assistance as per rate card – Tread mill and exercise cycle – Luggage storage option – Airport transfers and Car rental assistance – City Tour assistance – India Trip planning and booking assistance – Train / Airline booking assistance – Doctor on call – Private meditation and yoga tutor on request – Babysitting assistance
Meals: – Order an in-house meal or delivery from restaurants. – *In House Lunch or Dinner – Wholesome Fixed Menu (order must be placed in advance).
*Restaurants Deliver : Indian, Chinese, Fast-Food, Italian, Continental.
Breakfast served at The Estate Villa features a roster of wholesome choice of cereals, fresh juice, fresh fruits, variety of breads with conserves, a selection of cheese spreads served with Tea & freshly ground coffee. These are accompanied by baked beans, sausages, and one hot India/Continental breakfast item in addition to eggs of choice.
Set in a glass-enclosed, pavilion room overlooking the lush garden, you will find the pace and atmosphere more relaxed and enjoyable
Breakfast Service: 7.00 am to 11.00 am (complimentary)
Children up to the age of 5 years are not charged for. Check inTime : 1.00 pm / Check out Time : 12:00 Noon Bed Preference if any shall depend on availability. Rates are inclusive of Breakfast Airport Transfers available upon request. Student Discount : 30% off on stay. Valid IDs required at check in. Non Transferable.
*The Estate Villa management reserves the right of admission at the time of check-in. Yes, P's & Q's still matter. * House Rules must be respected at all times; otherwise we may request you to seek shelter elsewhere. Yup! We can do that. Really. * The Estate Villa has the right to charge damages which are caused by the deliberate, reckless or negligent actions of guests to the hotel's property or structure. Treat our home like you treat yours!
Tariff : Rates Valid from Jan-Mar 2019
Single / Double Rs. 5500
Room Rates include Breakfast.
GST of 18% additional.