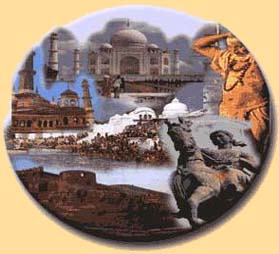 ancient cradles of Indian culture is bestowed with abundant natural wealth and resources. The most populous state of the country is inhabited by different types of people who represent a mix of various sectors and contribute to the economy of the state. Abuzz with industrial activity; Uttar Pradesh is a major milestone in the development of information technology (IT) sector in the country marching steadily towards becoming the smart state.
A place of gods and goddesses, a land which has a glorious history. It is the land of Rama, Krishna, Buddha, Mahavir, Ashoka, Harsha, Akbar and Mahatma Gandhi. It is a land dotted with countless shrines and pilgrimage which hold a special significance in the lives of the Indian people.
Guarded by the majestic Himalayas in the north, garlanded by Ganga and Yamuna. Surrounded by states like Bihar, Madhya Pradesh, Rajasthan, Delhi, Himachal and Haryana. It has a strategic importance for Indian Defense as it touches Tibet and Nepal on the Northern Border of the country.
Uttar pradesh is undoubtely India's most beautiful canvas.Studded with green strokes, wild splashes and quaint highlights.What makes Uttar Pradesh a holiday's delight are the sketches of Kumaon and Garhwal.Enchanting, captivating in their own ways.