Karnataka is the land of music. The state is rich in sandal wood, one of most expensive woods available around the world. The enchanting perfume of sandal and agarbattis (incense sticks), the aroma of fresh, roasted coffee beans, the heady fragrance of the "Mysore Mallige" and a thousand roses blooming..... Karnataka is a land of fragrance. A land that has all the ingredients of a great holiday site. A relaxed length of the Arabian Sea coastline, the majestic rocks of the Deccan, thick, lush tropical forests, an unimaginable variety of trees, plants, flowers, animals and birds. And above all, a sense of history and culture that is all pervasive.
Karnataka is a state of charming contrasts, with the modern blending harmoniously with the old. It has, also, some of the most magnificent monuments, temples, palaces and beaches in the country. You can shop for sandalwood, silk and spices. You can take home enchanting handicrafts, beautifully designed ethnic jewellery in gold and silver, eat food you have never tasted before, and meet people for whom hospitality is a way of life.Warm and friendly, the people of Karnataka know just how to put the tourist at ease. Ask them for directions, and chances are they'll take you to your destination.
A holiday in Karnataka is an enriching experience. The colourful folk dances and art forms, the age-old traditions and rituals, the literature and the music ... there's so much to see - and feel - and experience in Karnataka. Come, you'll be pleasantly surprised.
A holiday in Karnataka is an enriching experience. The colourful folk dances and art forms, the age-old traditions and rituals, the literature and the music ... there's so much to see - and feel - and experience in Karnataka. Come, you'll be pleasantly surprised.
Located 1000m above sea level, this bustling capital city of Karnataka, has a perpetual holiday atmosphere, thanks mainly to its picnic weather. Founded in 1537 by a local chieftain, Kempe Gowda, Bangalore has been much and imbibed even more. Rapid industrial growth has not taken away Bangalore's old-world charm. And a trip here can be truly delightful. Known as the Garden City and Silicon Valley of India, Bangalore offers you more than a day or two of sight-seeing. There is always something going on here - music and dance concerts (both western and Indian), dramas, exhibitions, carnivals… you could go disco-hoping or pub-crawling, to the restaurants or to movies, window-shopping, or even for a round of golf.

Bangalore is known as the Silicon Valley of the country, the nerve - centre of India's software industry. Its other major industries include aircraft, electronics and machine tools. Despite being one of Asia's fastest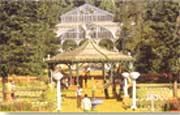 growing cities, Bangalore remains one of the most elegant metropolises in India. A well - planned city, with tree - lined avenues, a large number of parks, gardens and lakes, Bangalore is aptly called India's garden city. The city attracts people in large numbers, from all over the country, and abroad, who come to look for better job opportunities, and higher education. Surprisingly, all this frantic industrial expansion and increase in the population, has not robbed Bangalore of its essential old-world appeal. It is, in the true sense, a very 'happening' city.
HISTORY : In the year 1120 AD, the Chola King, Veera Ballalla ruled the Deccan plateau or the South of India. On a hunting trip in the forest he lost his way. After a long search he met an old lady in the forest who offered him shelter for the night and served him baked beans for dinner. To show his gratitude to this lady for having saved his life, the King constructed a town and named it as Benda Kalooru which means Baked Beans. Later in 1537, a local chieftain, Kempe Gowda helped design this town and give it its modern shape.
What to See :
Bangalore, Night Life : Bangalore is the "Garden City of India" with its many gardens and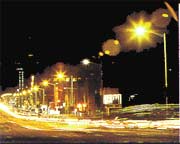 boulevards. Its pleasant climate and laid back charm attracted many senior citizens and thus later on came to be called at "the retired man's paradise". With the multinational Computer companies setting up their offices here and its the rich technical expertise found in the city gave it the name of "Silicon City". And of course what is Bangalore without all its Pubs. Its is now also called the Pub City with over 200 Pubs all over the town.
City Helpline
Railways

Airlines

Enquiry Tel-131
Recorded Tel-133
Reservation Tel-132
Tickets Status
English Tel-1361
Hindi Tel- 1362

Indian Airlines


City Office Tel- 2211914
Airport Tel-5279747,5266898
Air India
City OfficeTel-2277747,2224303
Airport Tel-5279747
Jet Airways
Tel-5588354
Airport Tel-5273934
Air France
Tel-5587258/939/9214
Flight Arrival / Depart Tel-142
Bowring & lady Curzon
Tel-5591362,5591325
Victoria Hospital
Tel-6611150
Mallya Hospital
Tel-2277990
Wackhardt Hospital
Tel-2268367,2266068,2261037

Cubbon Park :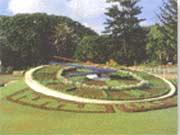 This beautiful park, sprawling across 300 acres, was laid out by Lieutenant General Sir Mark Cubbon in 1864. The park is green and dotted with fountains, statues and flowering trees. Close to the park is the Bal Bhavan and the Aquarium.

The Lalbagh : Started by Hyder Ali in 1760 and later completed by Tipu Sultan, this 240 acres landscape park is home to some very rare species of plants. The Glass House, inspired by the Crystal Palace in London, is the venue for the bi-annual flower shows.
Bangalore Palace : Inspired by the Windsor Castle, this palace was built in the Tudor style by a Wodeyar King in 1887.
Ulsoor Lake : is a perfect getaway dotted with a picturesque island. You can enjoy a boat ride here or swim in the nearby pool.
ISKCON Temple : Built at a cost of Rs.32 crores on a sprawling 7 acres plot, atop the Hare Krishna hill, is a pious blend of modern technology and spiritual harmony.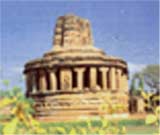 Situated 438 kms from Bangalore, Aihole is famous for it's temples.Famous as the cradle of "Indian Architecture", Aihole has over a hundred temples scattered around the village.

The oldest temple here is perhaps, the Lad Khan temple dating back to the 5th Century. The Durga (Fort) Temple is notable for its semi-circular apse, elevated plinth and the gallery that encircles the sanctum. The Hutchimalli Temple-out in the village - has a sculpture of Vishnu sitting atop a large cobra.

The Ravalphadi Cave - dedicated to Shiva - is remarkable for its delicated details.


Not-to-be-missed is the Konthi Temple Complex (Kwanthi Gudi), the Uma Maheswari Temple with a beautifully carved Brahma seated on a lotus, the austere Jain Meguti Temple and the two storied Buddhist Temple.
Situated 132 kms from Bijapur, and famous for it's temples. The capital of the Early Chalukyas, Badami is picturesquely situated at the mouth of a ravine between two rocky hills, Badami is famous for its cave temples - all hewn out of sand stone on the precipice of a hill.

Enter the first cave temple - past Shiva's door keepers - and there he is! The eighteen-armed Nataraja striking 81 dance poses !

The largest and most ornamental is the third cave temple dedicated to Vishnu. Overlooking the cave temples is a reservoir dotted with temples dedicated to Vishnu and Shiva. Also a must are the Bhutanath temples that lend their name to the lake beneath the cave temples.